3. Prize of the Robert Bosch foundation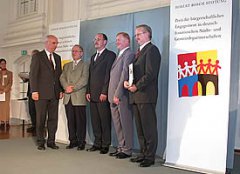 On the 18th of June, 2004, Robert Bosch foundation bestowed in the new castle in Stuttgart for the second time the prize for commitment to the citizenry because of partnerships between German and French towns and municipalities.
There are, in the meantime, nearly 2000 official town partnerships and local partnerships between Germany and France.
From more than 200 received applications for 26 projects prizes were bestowed, out of them one 1st prize (Eggenfelden - Carcassonne), two second prizes and three third prizes. For the third prize, the jury also chose the project of the municipality Windberg with the Southern French partner municipality Abos: "Chances by the enlargement of the European Union - today and in future".